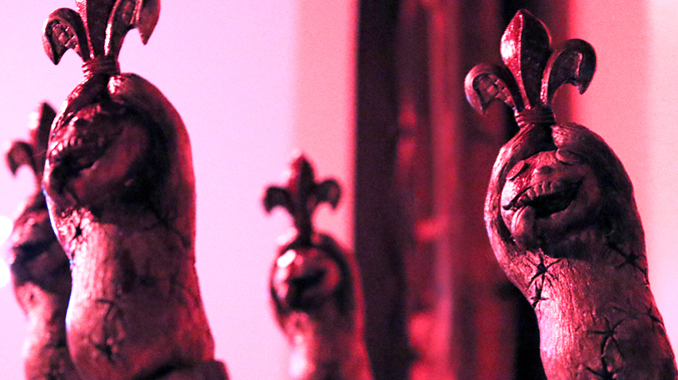 NOLA Horror Film Fest is put together by people from a wide range of backgrounds, and with a wide range of abilities. We use those personal differences to make a full, all-encompassing experience for our attendees that immerses them in the culture of the city. At its founding, New Orleans was made up of immigrants, and this remains a constant, even to this day. That, specifically, is the reason that New Orleans is the world-renowned cultural center that it is today. NOLA Horror Film Fest embraces that idea, and it shows in our board.
We have a jet-setting So-Cal writer/director who works in theater in his off time; a pyromaniac turned professional Special Effects Artist who grew up in the swamps and we are sure falls somewhere on the scale of insanity; his outspoken, in-your-face Dutch wife who makes costumes and sells adult toys on the side; a film nerd of encyclopedic knowledge of art house and genre films from the 9th Ward who dresses up as a zombie and chases people around the city in his off time; a shy 'goth kid' with a crazy-good eye behind a camera; a musician/band leader/writer/game-developer and all-around mad genius who runs his own website and plays in no fewer than four bands at a time; an insomniac painter-turned-professional photographer; a recovering attorney who has realigned her life to focus on various elements of the film industry and developing and furthering cultural non-profits in and around the city; and we round the board out with a famous cult actress who made a name for herself in Italy in the 80's killing off weak characters and being an all-around badass when there were no female badasses portrayed in the industry. She has since relocated to New Orleans to focus on support and development of women and children in film.
The point of putting this group together was to create an organization that simultaneously presents the public with the best independent genre films (specifically horror and Sci-Fi) that they have never heard of; provide events that are inventive, inclusive, accepting, and supportive of all facets of artistic culture across the city; and to start a movement that is in dialogue with the public-at-large. Organizing a convention that showcases all of the facets of the local art culture is the end goal. We recognize the fact that the horror/sci-fi community is a world-wide phenomenon yet speaks quite directly to the history and culture of this city. That gives us a built in audience and community off of which to build. We embrace this fact but we also invite those involved in writing, drawing, painting, welding, dance, sculpture, music, flame troupes, game design, CGI, SFX, and everything in between, to take part in this wild ride with us. We want to entertain, while exposing people to and educating people about things they may not be familiar with. And in turn, they will educate us through reaction, participation, interest and feedback in and across all facets of the New Orleans art community.