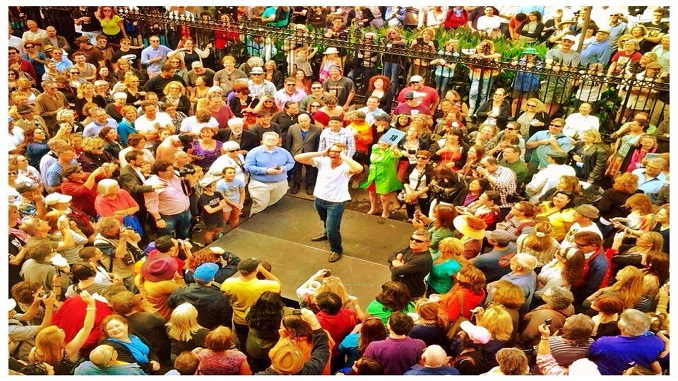 You may know us as the hosts of the Stella and Stanley Shouting Contest in Jackson Square every spring. But that's just ONE PART of the Tennessee Williams/New Orleans Literary Festival.
Every year, right around Tennessee's birthday, we celebrate the written word with five days of theatrical events, master classes, panel discussions, a book fair, literary walking tours, a scholars conference, culinary events, music events, and more.
Founded in 1986 by a group of local arts enthusiasts, we've grown from 500 audience members to an attendance of over 12,000 audience seats filled in 2016. The Festival celebrates the literary heritage of New Orleans and the South, blending Tennessee Williams' artistic legacy with the contributions of contemporary artists who challenge the issues of modern society.
We create programs and events that serve the community by providing educational, theatrical, literary, and musical opportunities for artists to participate in and for patrons to experience. By nurturing, supporting, and showcasing writers, actors, musicians, and other professionals in the arts community, we improve our city's cultural reputation, enhance the lives of artists from all disciplines, and create a legacy of artistic integrity that honors the spirit of our namesake, Tennessee Williams.
We also have several successful outreach programs throughout the year: writing contests for poets, playwrights, and fiction writers; educational outreach for high school students, literary discussions with authors at the Jefferson Parish Library ("Coffee and Conversation"), and our Saints and Sinners LGBT Literary Festival.
Watch our latest Festival highlight show reel here.
Visit our website (below) to stay updated on Festival speakers and events, to become a Friend of Tennessee, enter our contests, volunteer, and to sign up for our newsletters. Call our office for more information: 504-581-1144.