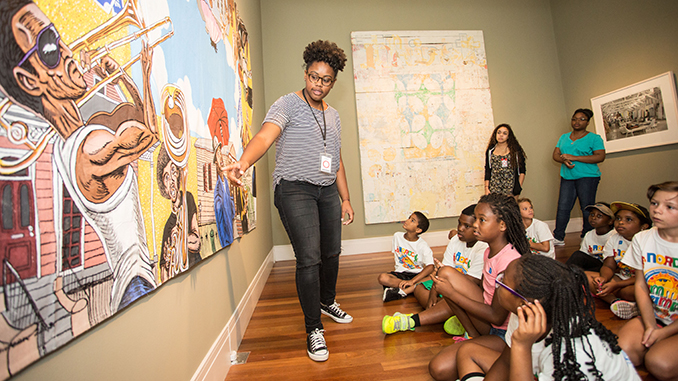 Located in the vibrant Warehouse Arts District of downtown New Orleans, Louisiana, the Ogden Museum of Southern Art holds the largest and most comprehensive collection of Southern art and is recognized for its original exhibitions, public events, and educational programs which examine the development of visual art alongside Southern traditions of music, literature, and culinary heritage to provide a comprehensive story of the South. Established in 1999, and in Stephen Goldring Hall at 925 Camp Street since 2003, the Museum welcomes almost 80,000 visitors annually, and attracts diverse audiences through its broad range of programming including exhibitions, lectures, film screenings, and concerts which are all part of its mission to broaden the knowledge, understanding, interpretation, and appreciation of the visual arts and culture of the American South.
Fun Fact/ Did you know?
The Museum is based upon the founding donation of more than 600 works from New Orleans businessman Roger H. Ogden's private collection. Since his original donation the Museum's collection of paintings, watercolors, drawings, prints, photographs, sculpture, wood and crafts has grown to include more than 4,000 works donated from individuals and collectors from across the US. The Museum's collection consists of work by artists from or associated with fifteen Southern states: Alabama, Arkansas, Florida, Georgia, Kentucky, Louisiana, Maryland, Mississippi, North Carolina, Oklahoma, South Carolina, Tennessee, Texas, Virginia, and West Virginia as well as the District of Columbia. Among the many artists represented in the Museum's collection are Walter Anderson, Benny Andrews, Clementine Hunter, George Dureau, William Dunlap, Ida Kohlmeyer, Will Henry Stevens, Kendall Shaw and George Ohr.