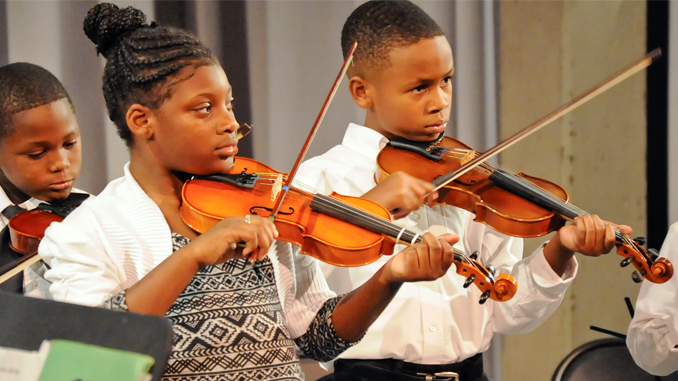 At Make Music NOLA, we believe that music makes opportunity.
Countless studies have confirmed the lasting value of early musical training. Children who learn to play an instrument at a young age exhibit enhanced memory, advanced literacy, and stronger academic performance. Musical training improves both neuroplasticity and executive function, improving decision making, goal setting, and critical thinking.
And yet, music programs are quickly disappearing across the United States. Access to music training is in peril, especially among already-underserved populations for whom private lessons are out of reach. Over time, this gap becomes more and more pronounced, reducing the diversity of our music communities. Today, only 4% of American orchestra players are Latino or African American.
At Make Music NOLA, we believe in the transformative power of quality music instruction. We provide focused, tuition-free music training to students at New Orleans schools and community centers. Our string instrument-focused curriculum uses the languages of jazz, pop, and hip hop to foster music literacy and a passion for playing.
We know that music can be a meaningful instrument for social change. And we believe that New Orleans, the cradle of American music, is the perfect place to launch a revolution in music training.