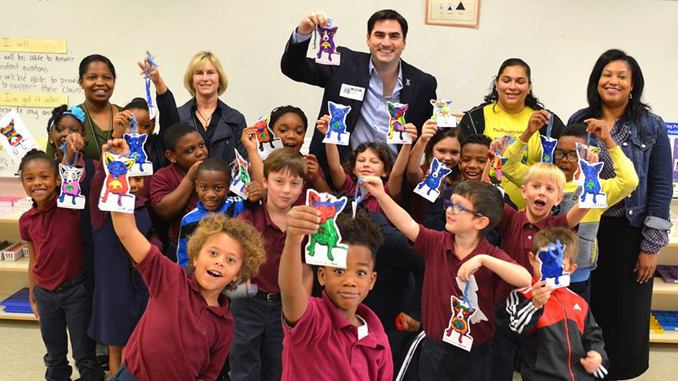 George Rodrigue Foundation of the Arts (GRFA) advocates the importance of the arts in the development of our youth. GRFA encourages the use of art within all curriculums and supports a variety of art educational programs.
Through the Annual Scholarship Art Contest, GRFA awards college scholarships to high school juniors and seniors selected through an open submission process.
George's Art Closet is a program that awards art supplies to Louisiana art teachers whose funding does not otherwise allow for the expense, often bringing arts into the classrooms for the first time. Two kits (valued at $1,000) are given out per month.
Since 2009, the GRFA Print Donation Program has helped fellow non-profits raise money at their fundraising events through the use of Rodrigue prints for silent auctions, raffles and more. In the past year GRFA has helped raise funds for 168 other non-profits through the Print Donation Program.
Louisiana A+ Schools is GRFA's largest undertaking. The goal of this program is to improve schools and help students thrive through the arts. LAA+ trains teachers to infuse the arts into every subject in every classroom through ongoing professional development. In only 4 years, LAA+ has trained over 700 teachers in 18 schools statewide. These teachers impact the lives of over 6,000 students and families every day.
websites  http://www.georgerodriguefoundation.org  and www.aplusla.org
twitter – https://twitter.com/RodrigueFdn
Facebook – https://www.facebook.com/GeorgeRodrigueFoundation
Instagram – @rodriguefoundation